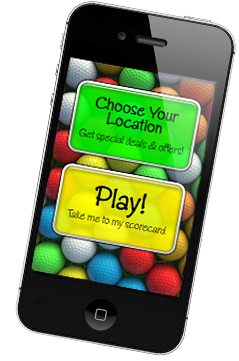 Who doesn't love to play mini golf? It's a traditional pasttime for kids of all ages, a great activity for a first date, and even helps the pros hone their skills before hitting the links. Yet who wants to bother with carrying around annoying paper scorecards when there's a high-tech scorecard right in players' pockets?
Introducing My MiniGolf Scorecard — an app created for iPhone, iPod, and Android devices that makes playing a round of mini golf not just more convenient, but a lot more fun!
Features for Players
If you're a mini golf afficianado, you'll appreciate having the ability to automatically calculate your score, find nearby mini golf locations, and boast your accomplishments to friends via social media.
Learn about all of the Features for Players
Features for Facility Owners
Mini golf facility owners take note — this app isn't just for players. We all know that word-of-mouth is the best form of advertising, and with the built-in social media functions, your customers will spread the word about your business to all their friends. Not only that, but users of the app can learn valuable information about your facility (such as pricing, hours, and special discounts).