Leverage Social Media to Connect With Potential Visitors
Advertising on billboards, tv, radio? It's expensive, and there's no guarantee you're reaching the desired customer base. Internet ads are cheaper, yet often ignored — or worse, blocked — on users' computers. Leveraging social media, however, can be free and painless to get going when done correctly. My MiniGolf Scorecard allows users to post their scorecards to Facebook; their friends see how well the team did, but they'll also notice your logo featured prominently at the top. With word-of-mouth advertising factoring significantly into kids and teenagers' activity choices, this is an opportunity that's too good to pass up!
If a branded mobile app is more up your alley, you'll also be able to promote your business with custom photo frames. Visitors who want to capture a moment of fun on the course for posterity can take a picture directly from the app, then choose from a variety of overlays that evoke the look and feel of your brand. The photos they share on Facebook will showcase your facility and logo to all their friends!
Include Valuable Information About Your Location
Users who are searching for a mini golf location or are contemplating visiting yours often have three questions — what time can I play until? How much does a round of golf for us cost? And are there any good deals available? My MiniGolf Scorecard can showcase all of this information without needing to redirect users to your website, and best of all you have full editing control!
Once partnered with My MiniGolf Scorecard, you'll get your own unique login that will allow you to change your business' information and give players helpful data such as par for each of your courses. Change the content as often as you please — your customers will thank you for giving them everything they need right at their fingertips!
Reduce the Need for Paper and Pencils!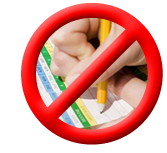 Remember the "paperless office"? Now you can strive to have the "paperless mini golf course!" Eliminate a sizeable chunk of your annual budget by cutting down on the ordering of scorecards and pencils. No need to worry about keeping the pencils sharpened, plus it's less litter to clean up around the facility. With My MiniGolf Scorecard, your business can be just as green as your courses.